Heather Powers, artist and owner of Humblebeads, put together a blog hop featuring her gorgeous beads and a mix of other beads, sari silk ribbon, and brass charms.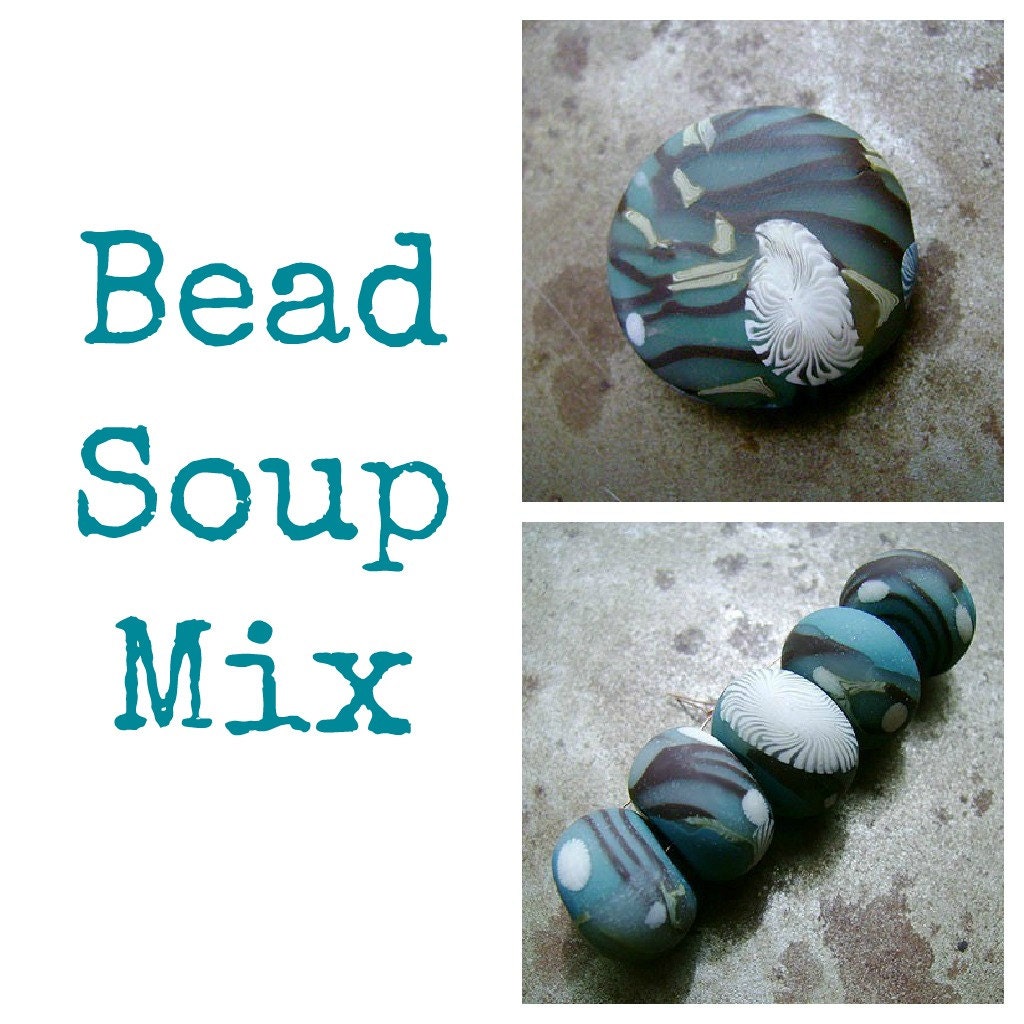 The day I received my kit, I put together my bracelet! It really was easy to find inspiration with Heather's beads and bead mix. I used the focal bead and wire wrapped it to the brass branch focal sent in my kit. On one side of the bracelet, I used a large link chain and wove the sari silk ribbon back and forth and knotted large hole pearls from the kit on the ends of the ribbon. I added bead dangles from the bead mix and Heather's lovely polymer round beads. I thought I would add a bit of whimsy with a bird and a pair binocular brass charms. Who doesn't look at nature during a hike in the woods!
On the other side of the bracelet I used a smaller link rollo chain and designed it more like a charm bracelet. Using the beads and brass pieces from my soup mix, I created several charm dangles.
I liked the bracelet design so much, I created a pair of earrings from my bead mix. At that point the group deserved to be finished out with a pendant. I ordered another from Heather a couple days later for the pendant. I used the left over Czech glass from the bead soup, added a wood slice bead, a brass acorn charm, a willowy Vintaj leaf from my stash and a couple natural stone and crystal beads to finish out the dangle. On the earrings, I used Heather's polymer beads, brass bead caps, and Czech glass from the mix. The bead caps stuck out away from the beads so I used my pliers and molded them around the bead so they were more tight fitting. Don't want earrings to be tangled in hair or clothing!
Here is another creative photo of the pendant and earrings. Dusk was approaching and the natural light was dying so the rush was on to get a good picture for my blog post!
The orange pumpkin sets off the teal of Heather's beads nicely! This picture also shows the wooden bead slice and the natural stones and crystals I used from my bead stash. I may still tie a piece of the leftover ribbon on the pendant, and since time was short I need to actually finish the chain on the necklace with a clasp. I just draped it for the photo!
Be sure to stop by the other Blog Hop participants to see what they have created with Heather's Bare Branches Bead Soup Mix!